If you want to make great compost for your garden or flower bed, you're going to need a good composter.
The Sun-Mar Continuous Use Auto Flow 200 (Non-Stop) Composter is one of the best selling composters around, and it is guaranteed to create light compost that anyone can shovel around the garden.

This composter has several functions that place it a step above many of the other composters out there, so if you're looking for a nice composter, this may be the one for you.
The Sun-Mar Composter uses a special rotation bio-drum that allows it to continuously move the compost around. The compost is cycled through the outer drum and then moved back to the collection chamber and to the output port. Once it's cycled through several times, you'll have very "fluffy like" compost that you can scoop out and use in your garden. It's very easy to load up the Sun-Mar Composter, too. Unlike most drum composters, you don't have to stop this one to add more kitchen scraps or other items to it. You can keep the composter right outside your door (especially if your kitchen has its own outside door) and quickly and easily dump your scraps into it.
It's strong enough to survive the weather, and its green polyethylene body will last for quite some time. This type of composter is really useful for those who constantly need a source of great compost for their gardens and flower beds.
Recycle.
($299)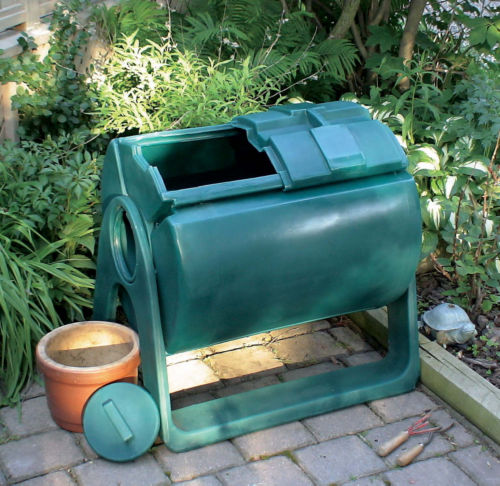 50-gal. Capacity - 32" High - 33 1/2" Wide - 24" Diameter - 38 lbs.